Hello hello everyone!
saya berada di paras tekanan perasaan yg sgt tinggi kerana berat sudah naik sedikit.sedikit ke?
mana tak nye,lepas je kawen asyik makan tak henti2.
weekend je makan byk.
oh ye,saya juga mahu blog psal nakum.
sbnarnye nakum tu ada kaitan dgn team building co saya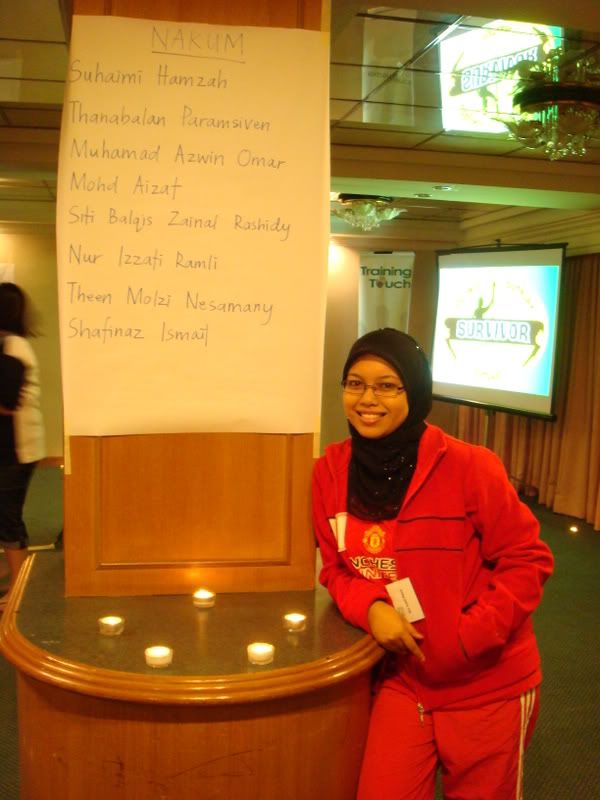 nakum tu nama kumpulan kitorg.lawak ke?tak lawak sgt sbb ada yg lagi lawak mcm jaburu (mcm mencarut sikit),ogakor,malakal dan ape ek lg satu group yg poyo tu.(group jijah)
kitorg berangkat dr mesin pd pukul 545 (ni sume gara2 ekin ngan sar).perjalanan ke good widow (janda baik) mengambil lebih kurg 2 jam ++ akibat kepandaian pakcik bas yg lalu KESAS instead of LDP.(jammed kat subang je dkt 30mins ok!)grrr..
smpai je kat sana..kitorg tros pi apartment masing2..saya satu rumah dgn wan,jijah & ivy..bygkan lah..dlm 4 org tu..sorg je yg baik iaitu saya.muahahahahaha.taklah,ivy la baik..
saya notti sikit tp jijah ngan wan mmg puaka.hantu2 kat situ pon takot dgn dorg.eheheh
saya mls nak cerita psal aktiviti kat sana sbb sumenye memenatkan (terutama cr harta karun-la sgt!) ..eee...konflik2...
nah,korg tgk la pic2 sengal kitorg.
**Ni pic saya dgn sar aka acu aka puterii (kononnye)**
Masa ni malam kitorg br sampai.letih sgt ok..balik keje tros g team buiding..but it was fun..bila dgn budak2 yg mereng. :-P

**yg lelaki sesat sorg tu adik ipar saya.tak sangka pulak satu group tp mmg bes..dan atas dasar itulah hasben saya bg saya pegi (sbb die tau adik die ade) :-P **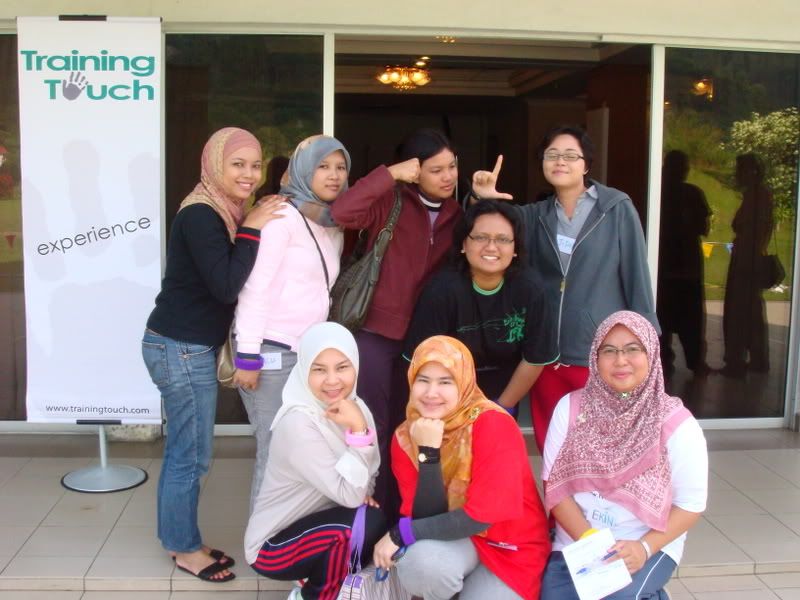 **yg baju merah duduk tuh la boss saya..**
**ini lah pic of the year.aim& sar**
LARIKKKKKKKKKK!!!!!!!!!!!!!!!!!!!